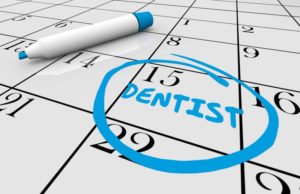 After finishing all of your holiday shopping, you're looking for ways to save money into the new year. If you have dental insurance, then visiting your dentist early in the year can actually save you money. It may sound contradictory that seeing your dentist near Auburn more often can cost you less, but it's true. After all, most dental insurance plans fully cover routine appointments that are designed to prevent oral health problems like cavities. Continue reading to learn three more reasons why you should schedule your dental checkup as early in the new year as you can.
More Options for Appointment Times
Your dentist's schedule fills up more rapidly than you might think. If you're like most people, then your own schedule will likely become busier as the year progresses. To prevent your agenda from getting too hectic to squeeze in a dental checkup, go ahead and book your appointment early in 2021. This allows you to not only select the day of the week or time of day that works best for you, but you'll also be able to give your boss plenty of notice when asking for time off from work.
Early Detection of Oral Health Issues
Whenever you visit your dentist's office for a routine cleaning, they will also perform a quick oral cancer screening. The survival rate of oral cancer has increased greatly in the last few decades, which is largely due to early detection during dental visits. Your dentist can also spot the beginnings of several other oral health problems, like gum disease and tooth decay. The sooner these conditions are identified, the easier they are to address. As a result, you'll spend significantly less money and time on dental treatments.
Maximize Your Dental Insurance Benefits
Most dental insurance plans have a deductible, which is an amount you must pay out-of-pocket before the insurance company begins covering your care. Getting your routine preventive visits taken care of early in the year can minimize the risk of encountering unexpected dental costs that might arise later on.
While you're already making New Year's resolutions for 2021, why not add "schedule a dental checkup in January" to that list? By the time 2022 rolls around, your smile and your wallet will be much better off!
About the Author
Dr. J. Travis Kobza is a family dentist near Auburn, NE who earned his Doctor of Dental Surgery degree from the University of Nebraska Medical Center. He has since earned a Fellowship from the International Congress of Oral Implantologists for his work in dental implant placement and restoration. His practice is in-network with BlueCross BlueShield and Delta Dental, but they welcome all dental insurance. To learn how you can save money on dental care in 2021, contact Kobza Dental at (402) 245-2243.