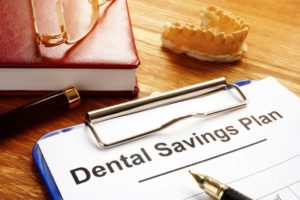 When it comes to funding your dental care, there are generally three options: paying with cash or credit, utilizing dental insurance, or using a dental discount plan. The latter two options are designing to reduce the amount of money you spend at the dentist's office. But which one will net you more savings? Continue reading as we compare the two options so you can discover which one is best for your unique situation.
How Dental Insurance Works
With dental insurance, you pay a premium every month in exchange for a certain amount of benefits every year (called your annual maximum). Once you've met your deductible for the year, the insurance company will pay a percentage of the cost of your treatment. They mainly cover preventive care, with restorative treatments like fillings or crowns only partially covered. Elective services, such as cosmetic work, are almost never covered.
How Dental Discount Plans Work
Also known as a dental savings plan, a dental discount plan presents an alternative to traditional insurance. Joining one is often as simple as paying a flat annual fee and then immediately reaping the rewards without having to pay a deductible. In most cases, preventive care is completely covered. However, many of these plans also offer discounts on services that insurance might not cover, such as dental implants or cosmetic treatments.
Dental Insurance vs. Dental Discount Plans
According to the Centers for Disease Control and Prevention, only about half of American adults have private dental insurance. If you're part of that statistic, a dental discount plan can make your care more affordable. They also have no deductibles or annual maximums to worry about.
On the other hand, dental discount plans might not always completely cover the cost of any one treatment, while dental insurance typically covers two checkups a year at 100%. You might also be limited on where you can receive care. While many dental insurance plans allow you to choose your dentist, a dental discount plan often only works at one specific dentist's office.
Which One Is Better?
The answer primarily depends on your unique oral health needs. For instance, if you're diligent about daily brushing and flossing and you don't require much care beyond biannual cleaning, then you might benefit from a dental discount plan rather than insurance. But if you have a history of poor oral health, you might require more restorative care, which is more likely to be covered by insurance than a savings plan.
If you're still unsure which option would be right for you, don't be afraid to call your dentist's office and ask. A member of their team can determine which plan would best benefit you based on the state of your oral health. They'll be happy to help you find a budget-friendly solution for your dental care!
About the Author
Dr. J. Travis Kobza is a family and implant dentist in Falls City, NE who earned his Doctor of Dental Surgery degree from the University of Nebraska Medical Center. He has since earned a Fellowship from the International Congress of Oral Implantologists for his work in dental implant placement and restoration. His practice is in-network with BlueCross BlueShield and Delta Dental, but they welcome all dental insurance. They also offer an in-house savings plan to make your care more affordable. To learn which one is right for you, contact Kobza Dental at (402) 245-2243.