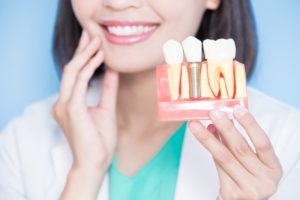 Losing a permanent tooth can be an overwhelming situation, especially when presented with all your tooth replacement options. However, one clearly sets itself apart from the rest: dental implants. This modern treatment offers a variety of benefits you simply can't get with dentures or dental bridges. With over 500,000 dental implants placed every year, it's quickly becoming one of the most popular ways to rebuild a complete, confident smile. Here are seven distinct advantages of this common tooth replacement procedure.
1.) Exceptionally Lifelike
Dental implants are designed to look, feel, and function just like natural teeth. They're custom-made to mimic the size, shape, and color of the surrounding teeth with a durable material known as dental porcelain. Once it's placed, it will be nearly indistinguishable from the rest of your smile!
2.) Improved Comfort
Dentures and dental bridges can become loose, uncomfortable, and irritating over time. On the other hand, your dental implant will be fused with your jawbone to provide unmatched stability and comfort. You'll never feel it shift, slip, or pop out of place while you talk, eat, or laugh.
3.) Strong Biting Force
Dental implants allow you to eat all your favorite foods confidently. Since they're firmly anchored in your jawbone, they can restore 80% or more of your biting force. The strong materials and solid foundation make it easy for you to enjoy all the steak, ribs, corn on the cob, and candy apples you want!
4.) Designed to Last a Lifetime
Unlike other tooth replacement options that only last five to 15 years, your new dental implant is meant to be a permanent addition to your smile. As long as you take care of it, you'll never have to worry about repairing or replacing it.
5.) No Special Care Needed
Keeping your dental implant clean and healthy is an easy task. Simply brushing and flossing it every day along with the rest of your teeth will help keep your dental implant in place for decades. Practicing a daily dental routine is all that's needed to keep it looking and feeling its best for a lifetime.
6.) Prevent Bone Loss
The roots of your teeth promote circulation in your jawbone. As soon as a tooth goes missing, the bone tissue it supported will begin to deteriorate. Dental implants use a small titanium post to replicate the tooth's roots below the gumline. This stimulates the blood flow needed to keep the jaw from shrinking.
7.) Better for the Health of Your Smile
Your new dental implant won't damage the surrounding teeth or cause gum irritation like other tooth replacement options. What's more, since it will be easy to keep clean, it can help lower your risk of oral health issues like tooth decay, gum disease, and mouth infections.
With all of the unique benefits dental implants can offer, it's no wonder why more than three million Americans have chosen to rebuild their smiles with them. If you're looking to replace your missing tooth with the next best thing, ask your dentist if dental implants are right for you!
About the Author
Whether you're missing one, several, or all of your teeth, you can count on Kobza dental to help you regain your smile and your confidence. Dr. Travis Kobza has been practicing dentistry since 2007 and serving the smiles of Falls City and the surrounding communities since 2013. He is a graduate of the University of Nebraska Medical Center and has completed additional dental implant education at the Hands on Institute. This advanced training alongside state-of-the-art dental technology allows him to perform every step of your dental implant procedure personally. To find out if dental implants are right for you, feel free to contact him via his website or at (402) 245-2243.