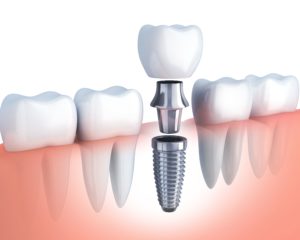 Are you missing a tooth? What about several teeth? No matter how many teeth you're missing, odds are you want to get that gap in your grin filled as soon as you can. You've probably been researching what your best options are for replacing your missing teeth. You may have heard that dental implants are one of the best, if not the best, options currently available. However, this method does require oral surgery, so you might be wondering just how safe it actually is. Keep reading to learn about whether dental implants in Falls City pose any safety risks.
But First, How Do Dental Implants Work?
In order to understand how safe they are, you should first understand the basics of how dental implants work. Implants are small titanium posts that perfectly replicate the structure of the root of your lost tooth. They are placed directly into your jawbone in place of your missing tooth.
Eventually, your jawbone fuses with the implant post until the two are essentially one and the same. This process is called osseointegration, and it can take anywhere from three to six months. Once your mouth has healed and your implants are fully integrated with your jawbone, your dentist will place a crown, bridge, or denture over the implant, depending on how many teeth you're missing.
Just How Safe Are Dental Implants?
You can rest assured that you will be safe when you get dental implants. After all, they have a success rate of about 98%, even after more than 10 years. Over the last half a century, millions of dental implants have been placed around the world, your chances of a successful and safe procedure are incredibly high.
While dental implants do require minor surgery, patients who have undergone this procedure often liken it to a tooth extraction. In fact, the procedure is often more comfortable than you might think, thanks to local anesthetic and sedation options.
How Can You Make Sure Your Dental Implants Last?
Although implants already have a high success rate, there are certain things you can do to further prolong their lifespan and make them even safer, such as:
Practice good oral hygiene. Brush twice a day and floss at least once daily to remove food debris and plaque that builds up on a daily basis. You can also rinse with an antibacterial mouthwash to clean areas that your toothbrush and floss can't reach.
Avoid bad habits. Poor lifestyle habits like smoking, chewing tobacco, or excessive alcohol consumption can put you at risk for dental implant failure. Tobacco use in particular slows down the oral healing process, increasing the chance that your body will reject the implant. If you need help kicking these habits, your dentist or doctor should be more than happy to help.
Attend regular checkups. Dental checkups and cleanings were important before, but now they can ensure that your implant is in good condition and spot any potential problems before they become serious issues.
Now that you're aware of how safe dental implants are, what's stopping you from scheduling an implant consultation with your dentist? Just keep the maintenance tips listed above in mind to keep your smile complete and healthy for years to come!
About the Author
Dr. J. Travis Kobza is a dentist in Falls City, NE who has earned a Fellowship with the International Congress of Oral Implantologists. This means that he is more than qualified to both place and restore dental implants without having to refer you to an outside specialist. To learn more about whether dental implants are right for your smile, visit Dr. Kobza's website.