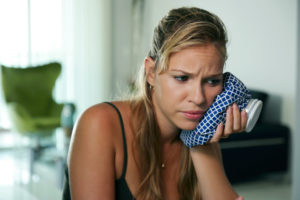 Working in the garage, playing out in the yard or preparing dinner for the family in the kitchen – dental emergencies can happen when you least expect them! This is true even if you are working from home or self-quarantining during these uncertain times. Knowing what to do in a dental emergency is always important, but even more so now that communities are practicing social distancing and many businesses are temporarily closed due to Coronavirus. Below is some helpful advice from an emergency dentist in Falls City on how to take action at home if you experience a dental injury or infection.
What Is a Dental Emergency?
A dental emergency is any dental problem that requires immediate or urgent care by a dental professional to alleviate severe pain, save a tooth or stop persistent bleeding. The range of dental emergencies include:
Severely infected tooth
Knocked out tooth
Cracked or broken tooth
Cuts to the tissues inside the mouth
Lost crown or filling
How to Handle Dental Emergencies at Home?
If you experience a serious accident or injury to your teeth, your first step should always be to call an emergency dentist in Falls City. Even if the office is not open due to stay-at-home measures, most practices have a special phone number patients can call in case of emergencies.
In addition to calling your dentist, there are also steps you can take at home to prevent further damage and ease pain, such as:
Tip #1: Toothaches – Rinse your mouth with warm water and take over-the-counter pain medication to reduce inflammation around the infected tooth.
Tip #2: Knocked Out Tooth – Carefully try to place the tooth back in the original socket. If you cannot, place the tooth in a small container filled with milk. Always call an emergency dentist right away.  
Tip #3: Cracked or Broken Tooth – If you can, collect the broken pieces to bring with you to the dentist's office. A cold compress can help reduce swelling.
Tip #4: Bleeding from the Mouth – Clean the inside of the mouth by gently rinsing with warm water. Apply a cold compress to relieve swelling.
Tip #5: Lost Crown or Filling – Use a cotton swab to apply clove oil to temporarily reduce tooth pain.
How Are Dentists Responding to the Coronavirus Crisis?
Dentists in Falls City are taking extra precautions in order to safely provide dental care while preventing the spread of Coronavirus. This includes following guidance recently published by the American Dental Association (ADA), which has provided dentists in Nebraska and nationwide with a "Return to Work Interim Guidance Toolkit".
Rest assured, your dental professional is following all appropriate respiratory hygiene infection control measures, such as:
Frequently and thoroughly washing hands
Providing tissues and no-touch trash bins to throw away used tissues
Offering face masks to patients, as appropriate
Following disinfection strategies commonly used during flu season
If you are curious about what specific measures your dentist is taking to ensure a clean and sterile environment or want to know more at-home dental care tips, do not hesitate to give their office a call.
About the Author
Dr. J. Travis Kobza is the Falls City dentist your neighbors trust to provide quality dental care no matter the circumstances. The Nebraska native and proud University of Nebraska graduate has over a decade of experience handling a wide range of dental emergencies. For dental emergency FAQs and more related information, visit the Kobza Dental website or call 402-245-2243.