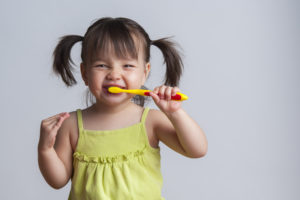 February is National Children's Dental Health Care Month! It's a great time to take a moment between buying flowers and chocolates to appreciate your little one's smile. To keep that sweet smile bright and healthy for the rest of their life, it's important to start great dental habits now. In fact, how well your child's primary teeth are taken care of can influence their confidence, the development of their permanent teeth, and even their general health later in life! Here are some practical tips from your children's dentist in Falls City to get your child excited about oral healthcare.
Make Brushing Fun, Not a Chore
Your child is less likely to take care of their teeth is brushing and flossing feels like a chore. Try making it a fun activity by:
Having them listen to a song or read for two minutes as they brush their teeth.
Letting them choose a toothpaste in an exciting flavor that you approve of.
Being a good role model and brushing your teeth with them.
Let Their Dentist Make a Good First Impression
The American Academy of Pediatric Dentistry recommends that your son or daughter should start seeing their dentist regularly by their first birthday. An early introduction to the new sights, sounds, and friendly faces at their dentist's office will help them feel more comfortable in the examination chair later. A great first impression of their dentist and good memories plays a big role in encouraging your child to continue getting regular dental checkups as they grow.
Watch What They Eat and Drink
The enamel on primary teeth is much weaker than it is on permanent teeth, which explains why studies have found that 42% of children between the ages of 2 and 11 develop cavities. You can reduce your child's risk of tooth decay by:
Limiting sugary drinks like soda and juice, or only drinking them through a straw.
Offering smile-friendly snacks like carrots, cheese, and nuts that strengthen enamel.
Making sure they're drinking plenty of water, which keeps them hydrated and washes away any lingering sugars on their teeth.
Reward Healthy Habits
Help your child feel proud of taking care of their oral health by rewarding their dental habits! Create a goal chart that lets them keep track of their progress and work towards a prize like a new toothbrush, a small toy, or a fun activity. There are also plenty of apps available for smartphones that use popular cartoon characters and games to keep your child motivated and engaged.
This February set your son or daughter up for years of happy and healthy smiles. Use these easy tips to make oral healthcare fun and encourage healthy habits that last a lifetime.
About the Author
At Kobza Dental in Falls City, NE, we understand that children need special care when it comes to protecting their smile. As a father of five himself, Dr. J. Travis Kobza is dedicated to ensuring both you and your child feel as comfortable as possible while receiving the highest quality dentalcare. We would love to help your son or daughter become enthusiastic about taking care of their oral health, so feel free to contact us if you have any questions. Dr. Kobza and our friendly team can be reached through their website or (402) 245-2243.