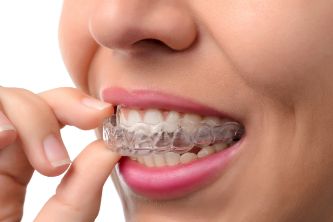 If you've recently gotten Invisalign in Falls City (or will be soon), you're on the right track to achieving a beautifully even smile and an aligned bite. And while an adjustment period is to be expected, there are some ways you can make the transition a lot smoother during the beginning stages of treatment. Keep reading for 5 great ways to get through your first week in Invisalign and make your journey to a beautiful smile easier from the start!
1. Track Your "Tray Time" Each Day
Since you'll be taking out your trays 4-6 times each day, it's easy to lose track of how long you're wearing them. Fortunately, there are multiple apps that track your "tray time" so you can make sure you're wearing them at least 22 hours per day and that you'll get your results on time.
2. Maintain Your Aligners
Although you'll be using a new set of aligners every two weeks, it's still important to care for them so they can do their job properly. Here are some easy maintenance tips:
Store them correctly – It's helpful to keep a couple of extra retainer cases around (at work, in your purse, etc.) so you always have a safe place to keep your trays. Avoid wrapping them in a napkin during meals because it's very easy to accidentally throw them away later.
Keep them clean – To clean your trays themselves, gently brush them with clear liquid soap or use a special solution from your dentist. After meals, rinse your trays well and make sure to brush your teeth before putting them back in.
Put them in correctly– To avoid warping or damaging your trays when inserting or removing them, apply even pressure on both sides with your fingers until they snap into place (and avoid biting them into position).
3. Sing To Help You Speak Clearly
For the first week, your trays will probably feel quite foreign and you may have a temporary lisp. One useful trick is to sing out loud to help your tongue adapt and re-learn how to enunciate words clearly. Rest assured that it usually only takes a few days to get adjusted and soon you'll forget you have your trays in at all.
4. Protect Your Tongue
At first, the edges of your trays may feel a bit abrasive to your tongue. While it will soon "toughen up," you may want to use a bit of dental wax from the store to cover any rough areas. You can also swish with a store-bought medicated mouthwash to soothe irritated areas and promote healing (these are usually labeled to treat canker sores or other minor oral wounds).
5. Start Great Oral Hygiene Habits
Finally, don't forget to establish good habits like consistent brushing and flossing and regular professional cleanings from the very start. This way, you'll ensure that your smile feels as great as it looks when you're done with Invisalign.
Achieving a straight, beautiful smile shouldn't be difficult. With these tips, you can make the adjustment period a lot smoother and start your Invisalign journey off on the right foot!
About the Author
Dr. Travis Kobza is an Invisalign-certified dentist in Falls City with over a decade of experience. He loves seeing how Invisalign gives his patients great results and a newfound sense of confidence and always provides tips to make the adjustment period easier. If you have any questions or want to schedule a consultation, he can be contacted via his website.