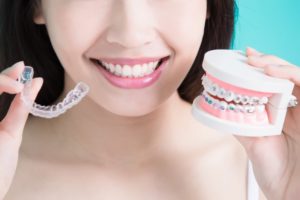 As you review your orthodontic treatment options, you know you'd prefer the invisible and flexible Invisalign in Falls City. However, as with any medical treatment, you have a few questions. Will they affect your speech? Are they more expensive than traditional braces? In this post, your dentist will answer these questions and more.
Is Invisalign More Expensive?
In most cases, the cost of Invisalign treatment is similar to the cost of traditional braces. The specific sum will be determined by the complexity of your case and how many aligners you need. Many dental insurance plans at least partially cover the cost of Invisalign, and your dentist may offer a monthly payment plan.
Will Invisalign Make Me Talk Funny?
As with any orthodontic treatment, it will take a few days to adjust to having Invisalign in your mouth. Many patients do not experience any change in their speech, but it is possible to have a small lisp for the first couple of days. Your speech should return to normal after you have adjusted to the aligners.
Is Invisalign Comfortable?
Invisalign treatment works by applying gentle, constant force to move your teeth. Just like with traditional braces, your teeth will feel sensitive to this pressure for the first couple of days. The discomfort is mild and completely temporary. The plastic material of Invisalign is overall much more comfortable than metal braces and will not result in cuts or sores.
Can I Switch from Traditional Braces to Invisalign?
If you are currently wearing metal braces, it is possible to switch to Invisalign treatment. Dentists are increasingly treating patients with a combination of metal braces and Invisalign, which allows for an eventual transition to only Invisalign. Talk with your orthodontist to see if the switch is possible for your specific case.
If you have previously worn braces but are unhappy with the results, Invisalign is often capable of retreating these issues as well.
How Do I Clean the Aligners?
There are two common ways to clean your Invisalign aligners: with the specific Invisalign Cleaning System available for purchase or with a simple toothbrush. You should clean your Invisalign every time you brush your teeth.
To clean your aligners with a toothbrush, rinse them in lukewarm water and brush both the inside and outside. Inspect the aligners to make sure you haven't missed any food particles. Rinse them with water again once you are done brushing.
Invisalign is a comfortable and innovate way to achieve your dream smile. If you have further questions or concerns about the treatment, don't hesitate to contact your dentist.
About the Author
Dr. Travis Kobza has over a decade of experience in the dental field. In 2015, he was awarded the 'Outstanding Young Professional' award from the Nebraska Dental Association. If you would like to schedule a FREE Invisalign consultation, he can be contacted through his website or at 402-245-2243.