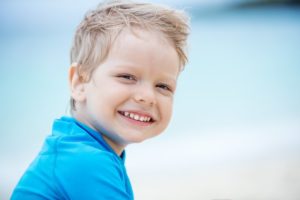 Did you know that February is National Children's Dental Health Month? Your little ones' oral healthcare is important for the rest of their overall health, which is why this month's goal is to raise awareness. Children miss an estimated 51 million school hours each year because of dental-related issues. Thankfully, your children's dentist in Falls City has some tips on how to keep your kids' teeth as healthy as possible.
Tip #1: Limit Sugary Foods
As you may know, sugar causes cavities. Children are automatically more susceptible to tooth decay because of their want for sugary foods and their imperfect oral healthcare routine. When sugar interacts with the bacteria in their mouth, it creates acid that eats away at their enamel. That's why it's a great idea to limit the amount of sugary foods your children can eat. And, when it is time to indulge, try to keep them away from sticky or hard candies that stay in their mouth for long periods of time.
Tip #2: Monitor Beverage Consumption
Did you know that on average, people consume 50 gallons of sugary drinks per year? This is a true problem with children because the sugary liquid easily coats their teeth, leaving them susceptible to cavities and decay. To combat this problem, you can make sure your kids are drinking water throughout the day. Most tap water is fluoridated, which is a naturally occurring mineral that fights cavities.
Tip #3: Help Your Children Develop Positive Habits
The sooner your children develop a good oral healthcare routine, the more likely they are to keep up with it as they grow. You can brush and floss your teeth with them to make sure they are brushing for 2 minutes and that they are flossing properly. If their oral healthcare routine becomes a struggle, you can use tactics like playing a brushing song and dancing with them to make it fun. You can also buy toothbrushes with their favorite cartoon characters on them to give your kids something to look forward to when it's time to brush.
Tip #4: Schedule Routine Dental Visits
Last but not least, routine checkups and cleanings are integral to your kid's smile. These visits are the best ways to prevent and detect more serious oral health issues from occurring. Plus, the more positive experiences they have at the dental office, the more likely it is for them to continue visiting the dentist on their own in the future.
Now that you know some of the best ways to help care for your son or daughter's teeth, use these tips to celebrate National Children's Dental Health Month in the healthiest way possible!
Meet the Dentist
Dr. J. Travis Kobza enjoys treating smiles of all sizes—little and small. He takes pride in creating long-lasting relationships with his child patients, which makes their dental visits more comfortable and fun. He currently runs his own practice, and he can be contacted through his website or by phone at (402) 245-2243 for any questions.