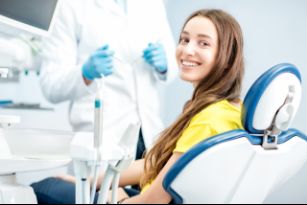 When it comes to finances, it's important to separate the "must haves" from the "nice to haves." Although it's not uncommon for people to put dental care in the "nice to have" category, the truth is that healthy teeth and gums are crucial to your overall quality of life. Not only does good oral health allow you to eat your favorite foods with ease, but it's also hugely important for your self-confidence. However, if you're one of the many people who don't have dental insurance, seeing a dentist in Falls City may be a financial struggle – and your oral health can suffer as a result. Fortunately, Kobza Dental now offers a savings plan that makes high-quality dental care accessible to everyone. Keep reading to learn more!
What Are the Benefits of Signing Up For the Savings Plan?
In short, the savings plan does exactly what it says and saves you money on dental care. It can't be combined with dental insurance, so it works best for people who don't already have an insurance plan. Here are the annual premium rates:
1 individual – $295
2 individuals – $570
Families of 3 – $860
Families of 4 – $1,140 ($175 each additional member)
Patients with gum disease – An additional $199
You can find detailed information on the plan's benefits here, but below is a general outline of which procedures are covered:
Cleanings, X-Rays and Exams – These preventive procedures are covered at 100% and include professional fluoride treatments, which are excellent for cavity prevention. Additional preventive procedures such as sealants for children or extra cleanings for adults are 15% off.
Cosmetic Procedures – Porcelain veneers as well as teeth whitening (custom-made trays and professional-strength gel) are both 15% off.
Restorative Care – Restorative care like fillings, dental crowns, root canals, bridges and dentures are all 15% off.
Oral Surgery – Oral surgery procedures such as wisdom teeth extractions are also 15% off. 
How Can You Get Started?
If you'd like to sign up and start taking advantage of the savings right away, the first step is contacting the office. If you have specific issues that need to be addressed, you can also simply schedule a consultation or a checkup a the same time that you sign up.
Again, keep in mind that this plan can't be combined with existing dental insurance. But, if you don't currently have coverage, it's a fantastic way to help you get the care you need to achieve a healthy smile – without breaking the bank!
About the Author
Dr. J. Travis Kobza is a family dentist in Falls City who wants to help everyone get the dental care they need. That's why he offers a savings plan as an alternative to dental insurance that makes high-quality care accessible to as many patients as possible. If you need affordable dental care and have any other questions, he can be reached via his website or at (402) 245-2243.