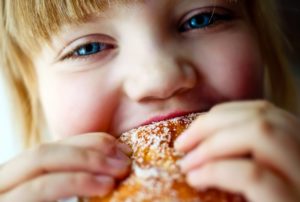 Can you believe that another year is almost over? Time is moving fast, and the holiday season is rapidly approaching again. That means there will be an abundance of savory and sweet delights available for your children to dive into. There's one little problem, though – the effect that these items can have on their oral health. Thankfully, there is a way to manage their holiday eating so they don't have to suffer setbacks in their dental wellness. As you read on, your dentist in Falls City gives you 4 key tips that will help out!
Sugar – The Nemesis of Oral Health!
The main threat to your family's oral health during the holiday season is sugar. It's not only found in dessert items but also in the breads, dressing, casseroles and other starch-based foods that are normally eaten over the holidays.
The primary issue with sugar is that it's the food of choice of bacteria, and when there is residue left behind, they flock to it, feed on the sugar and multiply. The bacteria then release corrosive acids that bore holes (cavities) into the teeth.
With the proper strategy, though, there's a way to enjoy the festivities without your children compromising their oral health.
Tip #1 – Brush After Every Meal
Because many holiday dishes are full of sugar, it's best for the whole family to brush after each meal. This prevents the bacteria from having a chance to settle on the teeth and begin the decay process. If it's not possible to brush after each meal, then it should be done at least twice daily.
Tip #2 – Monitor Your Children's Oral Hygiene
Because their teeth will be bombarded with more sugar than normal, it's important to make sure that when your children perform oral hygiene, they do it correctly. By watching them brush and floss, you can give any pointers needed to ensure they avoid cavity development.
Tip #3 – Develop a Sugar Schedule
Another way to prevent any negative side effects from consuming sweets is to develop a schedule for your children. Thus, the foods or snacks that contain the greatest amounts of sugar should be eaten at certain times of the day to prevent grazing. This gives their teeth time to recover.
Tip #4 – Schedule a Dental Visit
A final strategy for protecting your kids' teeth over the holidays is to schedule a dental visit. It will serve the following purposes:
Provides your children with a thorough cleaning to prevent any cavity development
Allows the children's dentist to thoroughly examine their teeth to make sure there are no threats to their oral health
Is a chance for them to receive expert advice from the professional on how they can better protect their teeth and gums
The holidays are fun times where lasting memories are developed and families come together. By implementing what you've learned here, your family can be happy and healthy as the year concludes!
About the Author
Dr. J. Travis Kobza earned his dental degree from the University of Nebraska Medical Center College of Dentistry. He has gone on to provide comprehensive, compassionate and competent care for patients of all ages for over a decade at Kobza Dental, P.C., and he can be reached for more information through his website.