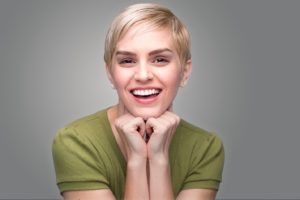 July — and the rest of the summer — is a busy time. Maybe you're taking a family vacation, attending your favorite cousin's wedding, and planning to go to your high school reunion. A new outfit and a spiffy haircut can help you look your best for these events, but you shouldn't neglect your smile when you're getting ready to impress. Professional teeth whitening in Falls City might be just what you need to achieve a confident, stunning look that turns heads wherever you go.
How Professional Whitening Works
There are tons of over the counter products that claim to whiten teeth, and many of these are great at fighting surface stains. However, they are simply incapable of fighting the deeper stains that are marring your smile. Other products produce no results at all or may even cause harm to your teeth.
Professional whitening is different. It combines a very strong bleaching gel with a custom tray that holds the gel in place. Your dentist in Falls City will provide you with these tools and give you detailed instructions for how to get the best results from them. You might start to notice changes in your teeth's appearance after the first couple of days, but it can take up to two weeks for your smile to reach its peak level of brightness. Most people's teeth become six to 10 shades brighter throughout the course of their treatment.
Before your dentist provides your whitening kit, they'll make sure your teeth are healthy enough for bleaching. They'll also give you advice on how to prevent new stains from downgrading your smile's appearance.
It Isn't Just for Special Occasions
You might be thinking, "I'd love to have whiter teeth, but I don't have any special events coming up, and I don't want to spend the money on professional whitening." That's understandable, but before you deny yourself the joy of owning a gorgeous smile, consider some of the reasons why any time could be a great time to say bye-bye to those stains and hello to a brighter set of pearly whites:
Professional teeth whitening is one of the most affordable cosmetic dentistry treatments. If you are careful to maintain your results, your investment in a gleaming grin could reward you with years of heightened confidence.
Research has shown that individuals with beautiful teeth are perceived as being younger and more attractive than folks whose smiles have serious cosmetic flaws.
Your smile is one of the first things other people notice about you. Whether you're giving a presentation at work, going on a date with your significant other, or just hanging out with your friends on the weekend, white teeth can help you make a great impression.
Whether or not you're going to attend a special event this summer, a professional teeth whitening treatment might be the perfect thing to perfect your look and bolster your confidence.
About the Author
Dr. J. Travis Kobza has been practicing dentistry for over a decade. His goal is to help his patients enjoy an improved quality of life, whether that is through preventive, restorative, or cosmetic dentistry. If you would like to talk to him about teeth whitening or any other dental procedure, contact our office at 402-245-2243.