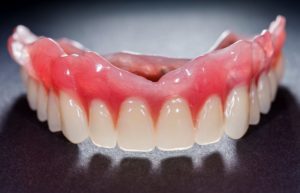 Dentures offer a level of convenience most tooth-replacement options can't match. It's as easy as popping them in when you wake up and cleaning and removing them before bed. It's also very common, however, for dentures to become worn down, uncomfortable, and inconvenient to use. It shouldn't take more effort to wear and care for your dentures in Falls City in the first place, which is why your dentist Is ready to offer some tips to increase their longevity.
Why Denture Care is Important
Whenever you wear dentures, bacteria from your mouth easily sticks to its many tiny cervices and multiple surfaces. Without regular care and maintenance, that bacteria stay in your mouth, causing chronic bad breath.
Additionally, without regular care, your dentures will only put you at risk for contracting other oral diseases. For example, denture-induced Stomatitis is an infection of the oral mucosa, or the moist lining of the oral cavity. While it can occur from wearing ill-fitting dentures, it can also occur if your dentures in Falls City are not properly cleaned daily. To avoid this as well as other conditions, take note of the following steps.
How Do I Care for My Dentures?
If you have or plan on receiving a removable denture, make sure you have an ultra-soft bristled toothbrush and a minimally abrasive toothpaste to clean the denture at least once a day. This goes for both partial and full dentures. After removing and cleaning your dentures, focus on the soft tissues in your mouth to avoid gum disease. Use an antimicrobial mouth rinse or simply brush your gums with your short, controlled, gentle strokes.
When not in use, your dentures should be stored in cold water or cleansing fluid. Make sure it's cold to avoid accidentally warping the shape of your denture. If you have a fixed denture, brush them twice a day just like you would natural teeth.
How Often Do They Need Replacement?
On average, dentures in Sabetha last about five years before they need to be replaced. This is assuming you take proper care of them as instructed by your dentist. A good way to determine the condition your dentures are in is by visiting your dentist at least two times a year. There, they can make sure that your prosthetic is fitting and functioning as intended.
If you have uncomfortable dentures but don't need to replace them just yet, you can also get a denture reline, which depending on the type you get can greatly extend the time needed in between visits. A soft reline is faster but will need to be readjusted sooner while a hard reline leaves you without dentures for a couple weeks but has a longer-lasting effect.
Don't let uncomfortable dentures in Hiawatha get in the way of your daily routine. Schedule an appointment with your dentist today to get it settled!
About the Author
Dr. J. Travis Kobza earned his Doctor of Dental Surgery degree from the University of Nebraska Medical Center. He also completed training at the Hands On Institute, which focused on implant restoration, surgical implant placement, bone grafting treatment planning, and prosthetics. To learn more about his practice and denture treatments, contact him at (402) 245-2243 or visit his website.