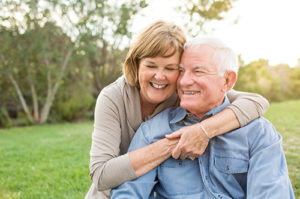 If you have missing teeth, you probably are already aware of how much of an inconvenience it can be. Not only do you have to sacrifice your favorite chewy or crunchy foods, but your missing teeth are also deteriorating the rest of your smile without you even knowing it. It's important to replace them!
Everyone's mouth is different, and your dentist knows that. That's why there are a variety of tooth replacement options to choose from spanning from dental implants in Falls City to dentures, crowns, and bridges. Learn more about them in this week's blog post!
Learn More About Dental Crowns and Bridges
Crowns are crafted from high-quality dental materials to cap a damaged tooth, but dental bridges are a series of dental crowns that can be used to replace missing teeth. Multiple dental crowns are attached together to create the bridge, replacing lost teeth that neighbor one another. By being cemented to natural surrounding teeth, a dental bridge can restore your missing teeth.
You can benefit from bridges because the process is non-surgical and much quicker than other restorations. After a few visits to your local practice, you'll have accomplished tooth replacement with an affordable option that will last for years to come.
There are a few drawbacks about dental bridges like needing to periodically replace them if they become damaged and altering the neighboring teeth for anchoring purposes.
Learn More About Dentures
Another great replacement option is dentures in Falls City. There are two several types of dentures that patients can choose that cater to various levels of tooth loss. Partial dentures are a fantastic way to replace several teeth in various places within your mouth, fitting between your natural teeth like the perfect puzzle piece. Full (complete) dentures work to replace a full arch of teeth or both arches.
You can benefit from dentures because you'll be able to eat and speak more clearly. They can help patients with more severe cases of tooth loss that thought they would never have teeth again. Some patients may not find them to be the best option for their lifestyle because they may require adhesives and more dental hygiene maintenance.
Learn More About Dental Implants
One of the best tooth replacement options for all patients is dental implants. When you think of a dental implant, it's easy to compare it to an anchor. Anchors hold things in place and make them stable. In dentistry, a dental implant is a surgically implanted into your jaw to create stability and place your teeth permanently.
Although oral surgery doesn't sound too inviting to many patients, dental implants have many benefits:
The maintenance of dental implants is minimal compared to other dental prosthetics because they act as natural teeth.
Our dental implants are built to last a lifetime.
They protect your jawbone and stimulate new growth.
Replaces both parts of the tooth: the root and the crown.
When replacing teeth, it's important to speak to your dentist about your options. With so many restorations available, your dentist can help you by evaluating your smile and recommending the best fitting tooth replacement.
---
About Our Office
Here at Kobza Dental, PC we make sure that you have everything you need to address your dental concerns—even when you have missing teeth. Our goal is to help you replace them and repair your oral health. Feel free to call our office to schedule your consultation.