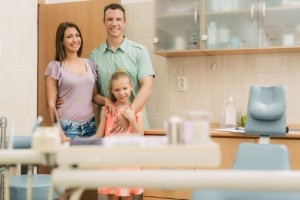 When you are raising a family, your life is very busy as you juggle school, work, extracurricular activities, and your daily responsibilities. Despite the American Dental Association recommending that everyone sees their dentist every six months, you often do not have time in your schedule to be running around to different dental offices. You need one dentist in Falls City who can meet the needs of your entire family from one location. At Kobza Dental P.C., Dr. Travis Kobza is the community dentist in your area who offers complete care for patients of all ages. Dr. Kobza and his team will treat your family as their own to give your loved ones something to smile about.

Comfortable Care for the Entire Family
When it comes to oral health care, everyone has unique needs and comfort levels, which is why we provide individualized services to make even the youngest of patients feel at ease when at our office. We take the time to get to know our patients to help them relax and feel comfortable during their appointments. We want our patients to feel valued while benefiting from high-quality dentistry.
From the moment your family steps into our office, they will feel welcomed by our caring team. We will help everyone relax as we get to know you and your children. By gaining your trust, we work towards building a personal relationship to set the foundation for lifelong oral health.
Complete Dental Services
Often, it can be a challenge to find a dentist who can meet the needs of everyone in your family. We strive to simplify dental care by providing an array of services for patients of all ages. In addition to preventive appointments for a cleaning and checkup for adults, we offer children's' dentistry.
We do more than just check your child's teeth. We strive to make your child feel safe and secure while we help them establish lifelong oral hygiene. We will keep their teeth looking great with a dental cleaning every six months and monitor the health and development of the teeth and gums. We offer many preventive treatments, like dental sealants and fluoride treatments to keep their smiles healthy.
We also cater to adults, even those with unique needs. In addition to restorative dentistry, like dental crowns, we also offer the best tooth replacement options with dental implants. We will help to ensure your teeth last a lifetime with the right care through all stages of life.
Your Family Dentist in Falls City
Every family is unique and has individual needs that require a caring dental team to fulfill. We know that it is not always easy to find the dental team you need, which is why we always accept new patients. We strive to provide the compassionate care your family needs from one convenient location. We welcome smiles of all shapes and sizes to help your loved ones enjoy healthy, beautiful smiles for many years to come. Let Kobza Dental P.C. treat your family as our own. Contact our office today to schedule an appointment.