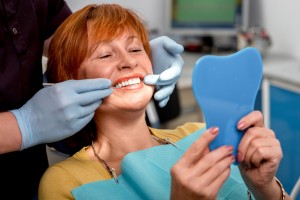 You've had a blank spot in your smile for longer than you'd like to admit – you want to get your missing tooth replaced, but you're not sure which option for artificial teeth is right for you. What are the differences between dental implants and dentures in Falls City, and how can you tell what would work best to improve your smile? Get the info you need on both methods from the team at Kobza Dental.
What Are Dental Implants?
Dr. Kobza knows that dental implants are the gold standard for replacing teeth. He explains that they consist of three pieces:
Implant – The implant itself is a biocompatible titanium post that will be surgically placed in your jaw. This will become the secure foundation for the rest of your replacement tooth. You'll have oral surgery as the first step in the process, and you'll need about 3-6 months for the post to fuse with your jaw in a process called osseointegration. At that point, the other pieces can be added.
Abutment – This is the connecting piece between the implant and- the tooth-shaped "cap." Once the implant is strong enough, the abutment will then be affixed to the post.
Crown – This is the part of the replacement that looks like the tooth. The long-lasting, natural-looking porcelain dental crown will be secured to the abutment after that part is added, restoring your smile to its former glory.
What Types Of Dentures Are There?
At our practice, we offer three types of dentures to restore your smile:
Partial Dentures – These are exactly like they sound – rather than a full plate, "partials" replace one or several missing teeth, and are set on a base that looks like your natural gum tissue.
Full Dentures – If you need a full row of teeth replaced, our full dentures fit comfortably, look natural, and are long-lasting.
Implant-Retained Dentures – These combine the best features of both dentures and implants. Dr. Kobza can actually secure a full plate of dentures to your jaw to replace numerous teeth.
What Are The Benefits Of Each Type Of Artificial Tooth?
Each solution offers a unique advantage to our patients with missing teeth:
Dental implants are great because:
They don't shift around in the mouth.
They strengthen your jaw bone.
They can last indefinitely with proper care.
Dentures are an excellent option due to these facts:
They are quick to create, so you don't have to wait for a complete replacement.
They're less expensive up front than implants, although they will need to be replaced throughout your life.
If your jaw bone isn't dense enough for implants, you can avoid bone grafting surgery with dentures.
Now that you know the difference between dentures and dental implants in Falls City, you can replace your missing teeth with the method that's right for you. So, what are you waiting for? Schedule your appointment with Kobza Dental today!