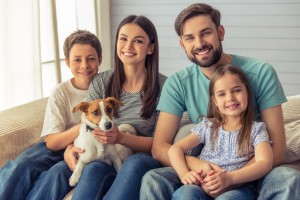 You put a lot of time and effort into taking care of your family. You take pride each time they smile or laugh, and you do your best to make sure they are always looked after in every way. Don't you wish you could find a dental practice that treats them as well as you do? Fortunately, that's exactly what the team at Kobza Dental strive for every day. They continually work to treat each patient like they are a member of their own family. What does this approach to family dentistry in Falls City actually mean for you, though? Today, we're going to talk about how we build relationships with our patients, and how it helps us provide the highest level of care possible.
Family Dentistry and You
When we say that we want you to feel like we are a part of your family, what does that actually mean?
It means that we'll put in the extra effort to get to know you as well as your loved ones, and treat them just like you would. Whenever someone comes into our office, they'll always be greeted by a friendly face. If they've visited us before, we'll remember their name, and know enough to ask them how they are doing. This isn't a simple pleasantry, we really care because the better we know you, the better care we'll be able to provide.
This kind of comfort makes it easier for people to ask questions and share issues they might be having. It establishes the kind of trust seldom shared by patients and doctors today, which makes it so much simpler for people to visit the dentist. Dr. Kobza and his team know these relationships are truly the foundation of a successful practice, and it is something they continue to improve every day they serve the families of Falls City.
How We Help Your Family's Smiles
Of course, when we say "family dentistry," we also literally mean we can take care of your entire family as well. We know your own smile is important to you, but the ones you think about the most probably belong to your children. We provide a place you'll be eager to bring them to, and we take that privilege very seriously. We understand that your child's first few dental visits can really shape how they will take care of their teeth for the rest of their life. We'll work with you to help establish the basic habits that will keep their smile healthy for years to come. You can think of us as one of your many parenting allies. By taking care of your children's teeth at an early age, you're setting them on a path for sustained oral health, which will help them take care of their teeth as they grow older.
Come See Us!
We could talk all day about how we serve our patients, but we know seeing is believing. We're sure that you'll feel the difference as soon as you walk into our office. It won't feel like any other dental visit you've ever had; you'll have an overwhelming feeling that you're home, because that's how we take care of you and your family. From the smallest child to the wisest grandparent, we're here to keep your family smiling for years to come.
If you'd like to know more about all the ways we can take care of you and your family's teeth, or want to schedule an appointment and experience our special kind of care, please give us a call today.